This Life is in Your Hands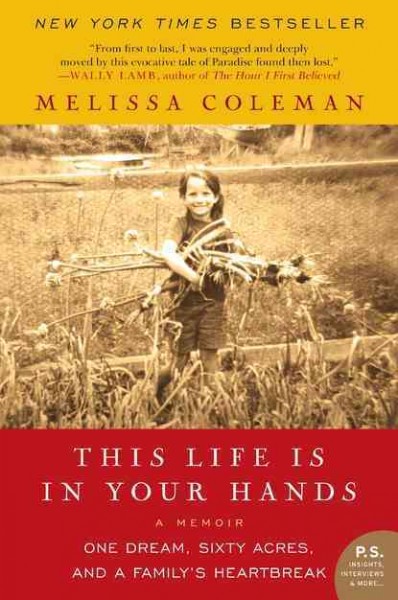 Imagine sitting among a small group of friends and exposing intimate details about your family and childhood.  Now imagine a larger group that includes acquaintances (your child's teacher, your hairdresser, your dentist).  Finally, imagine revealing difficult memories to the entire general public, including your whole family.
Melissa Coleman bravely confronted the truth about her childhood.  Through years of research, she pieced together her own history and clarified several defining moments in her past.  Hazy memories were confirmed and details were brought back to life.
In this startling memoir, Melissa's gift of expression reveals the extraordinary lives of those living on Cape Rosier, Maine in the early 1970s.  Her beautiful descriptions take you right to Greenwood Farm.  The characters live and breathe on the page.
I was so drawn to the story that when I finished the book, I went on to read the acknowledgement, all the extras at the end of the book, and went back through all of the Illustrations numerous times.  When I look at the book cover it brings back a flood of emotions.  I ran into a friend of mine that knows Melissa and I bombarded her with questions.
I was fortunate to have an opportunity to meet Melissa last night.  I was overwhelmed by how humble and sincere she was.  She was genuinely interested in everyone around her and did not relish being in the spotlight.  I really liked her.
I feel fortunate that someone as gifted as Melissa captured the human story that accompanied an important piece of organic farming history.  As Melissa accurately states, "This book brings perspective to today's renewed interest in food, farming, the environment, and simplifying modern life."