Lily King's Breathtaking New Novel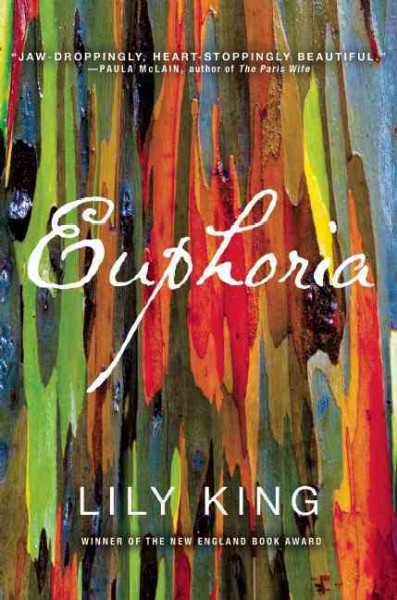 My friend Susie sent me a text Sunday morning that said, "Lily King is the cover review on today's NYT Book Review!"  I ran to my computer and there it was.  An absolutely glowing review of our very own Lily King's new novel, "Euphoria".
When I went to place my book order that night I saw that "Euphoria" was also an Amazon Best Book of the Month for June.  Then I noticed that "Euphoria" was listed as an independent bookseller favorite.
Lily King lives here in Yarmouth with her husband and two daughters.  She is a lovely person and we really enjoy her visits to Royal River Books.  She always gives excellent book recommendations.  Her last book, "Father of the Rain" is one of my all-time favorites.  Her new novel "Euphoria" is loosely based on the life of Margaret Mead.
Here is what Emily Eakin of the New York Times Book Review has to say about "Euphoria":
"For King, whose three previous novels, all expertly crafted, rarely strayed far from late-20th-century, New England WASP culture, "Euphoria" represents a departure and arguably a breakthrough. The steam the book emits is as much intellectual as erotic (for Mead there seems hardly to have been a distinction), and King's signal achievement may be to have created satisfying drama out of a quest for interpretive insight."
""Euphoria" is a meticulously researched homage to Mead's restless mind and a considered portrait of Western anthropology in its primitivist heyday. It's also a taut, witty, fiercely intelligent tale of competing egos and desires in a landscape of exotic menace — a love triangle in extremis."
Here is what Sara Nelson from Amazon has to say about "Euphoria":
"Mead, a controversial character in real life, is here transmuted into the equally complex (and somewhat sickly) Nell Stone, who has made a reputation for herself by studying native tribes in New Guinea. Her husband, also an anthropologist, is more jealous than dutiful, although he does manage to make her feel inadequate for failing to produce a baby. Enter a charming-but-tortured third anthropologist, who at times seems to be unsure to which of his new friends he's more attracted. Sparks of the emotional and sexual kind fly, but what's even more interesting is the portrait of a growing friendship based at least partly on philosophy and attitudes toward "primitive" cultures. You know from the beginning that some bad things are going to happen, but it is to King's great credit (and the fact that she changes some of the events in Mead's life) that you can't really guess what they are. This is the best kind of historical novel–the kind that sent me running to read more about its real-life inspiration."