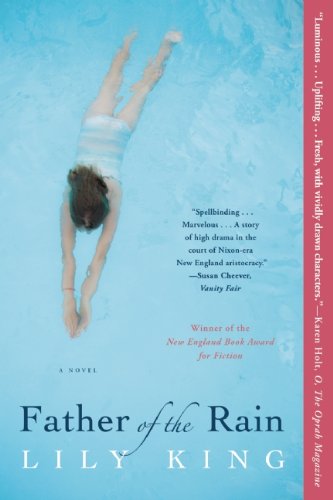 Lily King's latest book, Father of the Rain, has made an enormous splash on the book scene since its July 6th release.  It is #6 on Amazon's Best Books of the Month, it is on Oprah's recommended summer reading list for 2010, and according to Richard Russo, "Lily King's Father of the Rain is one of the most richly satisfying and haunting novels I've read in a long time."
I had heard about Lily King before I had the opportunity to meet her.  I felt fortunate that an award-winning author was living around the corner from the bookstore.  I immediately admired the petite, attractive mother of two beautiful and well-mannered girls when she came in and introduced herself.
I was struck by how modest and unassuming Lily was.  We talked briefly about her books but mostly about Yarmouth and how happy she was to be back (she was returning from a year abroad).  Over the following months, she became a regular customer and it was always a pleasure to see her smiling face walk through the door.
I was honored when Lily dropped off an advance copy of Father of the Rain in the spring.  I was looking forward to reading it but honestly did not expect to be so blown away by the book.  By the second chapter I was thoroughly engaged.  I could not put the book down and the characters are still with me today.  I passed it along to the other girls that I work with at the bookstore.  They were equally enthusiastic about the novel.
I am not surprised that Father of the Rain has been so well received.   I am thrilled that it is getting the notice that it deserves.  Lily is off on a national book tour right now and I am looking forward to catching up with her when she returns.  We will be scheduling a reading and signing in the near future.  In the meantime, please stop by and pick up a copy of Lily King's wonderful new book, Father of the Rain.