Three Amazing Yarmouth Artists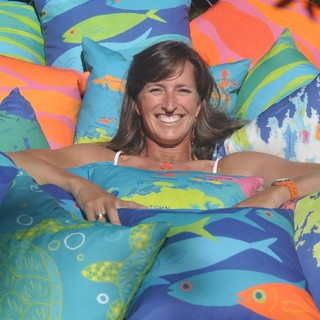 When my husband brought me over to our neighbor, Judith Barker's house to pick out a present for his mom I was totally surprised to see a showroom full of beautiful handmade jewelry. Her shop was upstairs from her studio, down the street from my house. I was reminded that right around the corner was Alison Bramhall's house, full of colorful coastal designs that she paints and prints on cards, calendars, pillowcases, flour sack towels, mouse pads, coasters, placemats, scarves, bags and even oars. Up on Main Street is Sarah Day's house, where you would find a well-equipped sewing room with a stylish line of bags, clothes and other projects that Sarah has created. There is so much talent within the walls of these Yarmouth homes! I am lucky to be able to carry the work of these three gifted artists at Royal River Books.
Judith Barker is an accomplished jeweler who has exhibited throughout the country in galleries, museum shops, trade shows and art exhibits since the early 70s. Having studied at The Boston Museum School of Fine Arts, it was a natural to find placement with a well-known Newbury Street jeweler in Boston until her return to Maine in 1975. The natural world has a strong influence on Judith's work. The textures of bark, lichen, twigs, and rock forms combined with the joyful elements of movement and sound make her jewelry a pleasure to wear. All work is handmade by Judith personally in her studio.
Alison Bramhall is a coastal Maine native who strives to bring happiness and joy into daily living through color. She believes that if color makes you smile and color makes you happy then you should surround yourself with it! I can't help but smile every time I walk into her house. Her artwork is bright and cheery but also tasteful with delightful coastal themes.
If Sarah Day is not at a school committee meeting or with her two young children, you will find her in her sewing room.  I love hearing about her latest project and looking through her lovely fabric collection.  She recently informed me that scrunchies were back in style.  She created a large assortment of scrunchies using Liberty of London fabrics that I am now carrying at the bookstore.  They have been very popular!  Sarah's snack bags and napkins have been a staple at the bookstore for a few years now.
I feel so fortunate to live and work in Yarmouth surrounded by creative and inspiring neighbors and friends.  I invite you to stop by and see some of their work.