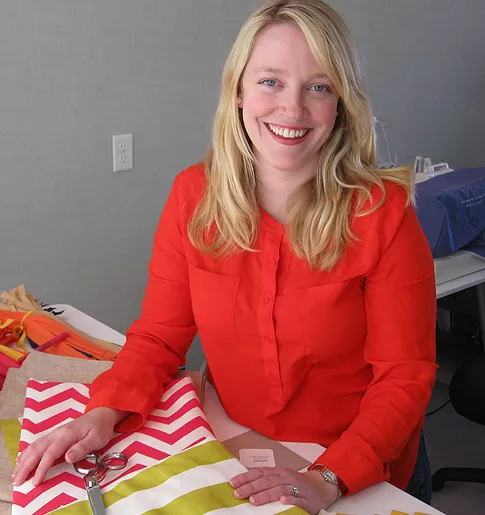 I would often see my friend Sarah Day's children reaching into adorable, homemade snack bags with a smile on their face.  I, on the other hand, buy a lot of individually packaged snack food.  For some reason I feel like it is better than wasting ziplock bags?
I wanted to feature more locally made products at Royal River Books and immediately called Sarah to see if she would be interested in making snack bags and napkins to sell.  Sarah, doing business as Red Letter Day, had already been creating and selling tote bags and accessories so she was no stranger to retail.  I was thrilled that she was excited about the opportunity.
I had a ton of fun looking at fabrics with Sarah and picking out some designs to get started.  Sarah explained that she made the snack bag liners with eco-PUL, a wipe clean fabric made of food grade materials.  The liners pull out for easy cleaning or you can throw the whole bag in the washing machine and dryer.
When Sarah brought the first batch to the book store, I had to take some for my kids.  They were so excited when they came home and saw the snack bags!  They wanted to use them right away.
My daughter was getting ready to spend the night at Nana's the next weekend.  I looked around for something to put her toothbrush and toothpaste in.  I thought of her snack bag and it worked great!  Sawyer was looking for something to put his Pokemon cards in the other day.  I suggested one of his snack bags and he said, "Perfect!"  I borrowed one of Lila's snack bags last weekend to bring some toiletries on our ski trip.  I love having these bags around!
Sarah also mentioned something to me about "lunchbox notes".  I always write a little note for the kids and put it in their lunch box.  When I did some research, I found a company called Say Please that makes really cute little cards that you can put in your child's lunch box.  The cards have positive notes, jokes and trivia.   I bought some for the book store and started using them in the kid's lunch.  They love reading them to their friends.
I feel like Super Mom now in the morning.  I just packed Lila's lunch with sprinkle snack bags and an ice cream napkin topped with a sweet card.  One side of the card is a joke:  "Why was the cat afraid of the tree?  Because of the bark."  On the other side it says, "Doing something nice for someone will make you both feel great."