New Faces at Royal River Books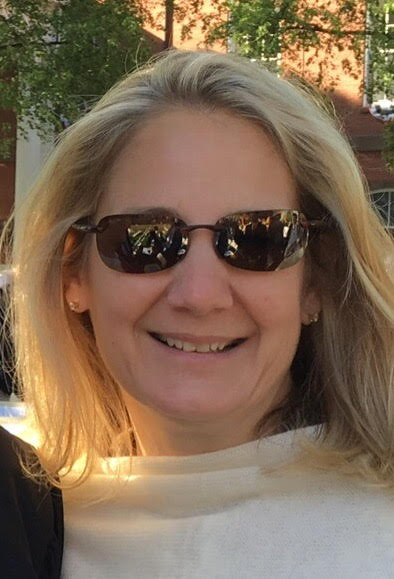 If you have stopped by the bookstore this summer, you have probably noticed some new faces behind the counter and a new four legged friend greeting you at the door.  We were very sad to lose two wonderful staff members early in the summer.  Leslie has relocated to Massachusetts and Becky (and Sunny) are pursuing other interests.  We look forward to seeing them when they come in to visit!
I was very lucky to have two extremely talented women express interest in working at Royal River Books.  They quickly learned the ropes and are happy to help with book suggestions!
Carole Fallon is a very familiar face around town.  All three of her children have gone through the Yarmouth school system with her youngest, Tommy, just graduating in 2017.  I first met Carole when she was my contact at Islandport Press, the local publishing company here in Yarmouth.  Carole has already made wonderful contributions to our inventory of books and I know she will continue to make sure we have a great selection.
On Carole's first day at Royal River Books I came in to see how she was doing and she was organizing the chaos behind the front counter.  Not only is Carole knowledgeable about books but she has also gotten me organized!
Marjie moved to Yarmouth from Ecuador last year with her two school age children, Louisa and Barrett, and big loveable dog Remy.  Marjie is busy during the week with her non-profit, The Family Leadership Center, which helps family leaders raise strong, caring, and engaged families.  On Saturdays, you can usually find Marjie with one or more of her own family members behind the counter at the bookstore.  Marjie has given me unique and interesting books suggestions for my own kids so I know she is great with our customers!
After 8 years, I am fortunate to still have Heather helping me at the bookstore.  Her kind nature makes the bookstore so welcoming.  Yulia, who has been at the bookstore for 2 years now, is working more during the week.  Yulia's talent for interior decorating has been great for our window display and the general look and feel of the store.
Yarmouth has been incredibly supportive of Royal River Books and I feel very lucky to live in this town.  I don't think of the bookstore as a business, but as a community project.  I appreciate my wonderful staff and the opportunity to do what I love.