New Faces at Royal River Books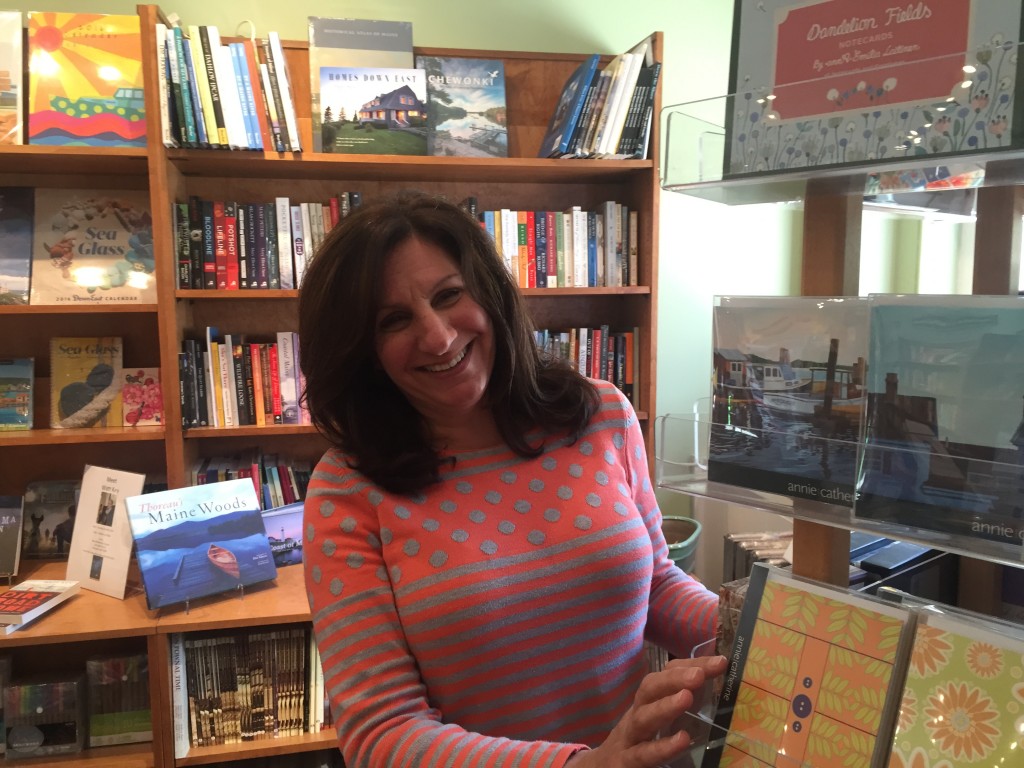 Yarmouth, Maine is a wonderful place to open a small, independent bookstore.  A lot of adults around here read books.  A lot of kids around here read books.  A lot of adults around here read books to kids.
Many people in the community appreciate and support local business.  There have been a lot of interesting and talented individuals who have expressed interest in working at Royal River Books.  Most of the staff have worked at the bookstore for years.
Heather, Becky, and Karen all started around the same time 6 years ago when I had my first child, Lila.  If you come into the bookstore on Mondays, you will still be greeted by Heather's calm, peaceful demeanor and warm smile.  Becky, a Yarmouth native, has wonderful intuition and makes thoughtful recommendations.  Becky not only keeps the bookstore festive by decorating the window and the interior with seasonal goodies, she also keeps our inventory original and interesting.  You are likely to see Becky, and possibly her adorable dog Sunny, on Tuesdays and Wednesdays.
Many of our customers have enjoyed seeing Karen Watterson at the store over the last few years.  During the summer, Karen began a new full time career as the Food Editor at Maine Media Collective which publishes Maine magazine, Maine Home and Design and Old Port magazine.  You can read her features in Maine magazine and Old Port magazine and follow her blog on www.themainemag.com.  We will miss Karen but are very excited for her and look forward to reading her articles.
Before she left, Karen recommended her neighbor and friend, Leslie, for the opening at Royal River Books.  Leslie moved to Yarmouth from Kansas last year and is thrilled to be in Maine, where she and her family have vacationed for years.  Leslie and her husband, Stephen, have two high school aged children.  Like the rest of the staff, Leslie's love for books dates back to her childhood.  She loves the warm, community feel of Royal River Books and has already made some great contributions to the inventory and the displays.  Leslie is typically at the bookstore on Thursdays and Fridays.
Many customers have also had the pleasure of working with Deborah over the last couple of years.  Deborah worked on Saturdays and was a big help to the rest of the staff by covering when needed during the week.  Deborah is pursuing some other opportunities and will also be missed by the Royal River Books family.  We will be welcoming a new staff member at the end of October to fill in for Deborah.
I would like to thank the amazing staff at the bookstore for everything you do.  I would also like to thank our wonderful customers for your support.  We would not be here if it weren't for you.