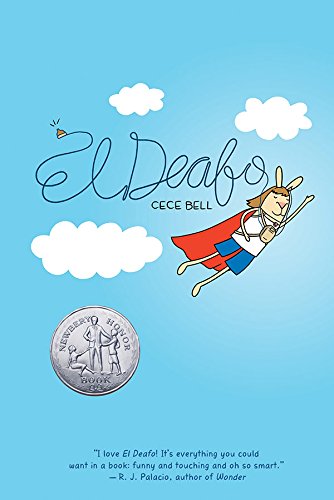 A few years ago I brought home the graphic novel, El Deafo by Cece Bell.  I was looking for something different to read to the kids.  El Deafo is an autobiography in which Cece tells the story about going deaf as a young girl in the 70s.  It was my first experience with a graphic novel and I was enthralled.  The characters were all rabbits and the illustrations were humorous and warm, adding a whole new dimension to the story.
Now my kids are reading on their own and nothing sparks their interest more than a graphic novel.  I think Lila has read all of Raina Telgemeier's books at least 15 times.  Even though Sawyer has read Dog Man 20 times, he will still crack up out loud every time he opens it.  I thought I would take this opportunity to share some of my favorite graphic novels for young readers.
Anything by Raina Telgemeier.   Smile is a great one to start with.  In Smile, Raina just wants to be a normal sixth grader. But one night after Girl Scouts she trips and falls, severely injuring her two front teeth. What follows is a long and frustrating journey with on-again, off-again braces, surgery, embarrassing headgear, and even a retainer with fake teeth attached. And on top of all that, there's still more to deal with: a major earthquake, boy confusion, and friends who turn out to be not so friendly.
Nathan Hale's Hazardous Tales by Nathan Hale.  Readers interested in American history will enjoy these graphic novels. Comic panels of varying sizes enhance the real-life events and support the stories' over-the-top humor.  The writing is accessible and entertaining; author Hale's style gives readers an insider-y, you-are-there-type scoop.
Secret Coders by Gene Luen Yang and Mike Holmes.  Welcome to Stately Academy, a school which is just crawling with mysteries to be solved! The founder of the school left many clues and puzzles to challenge his enterprising students. Using their wits and their growing prowess with coding, Hopper and her friend Eni are going to solve the mystery of Stately Academy no matter what it takes!
Lumberjanes by Noelle Stevenson.  Five best friends spending the summer at Lumberjane scout camp…defeating yetis, three-eyed wolves, and giant falcons…what's not to love?!
Rapunzel's Revenge by Shannon Hale.  Rapunzel escapes her tower-prison all on her own, only to discover a world beyond what she'd ever known before. Determined to rescue her real mother and to seek revenge on her kidnapper would-be mother, Rapunzel and her very long braids team up with Jack (of Beanstalk fame) and together they perform daring deeds and rescues all over the western landscape, eventually winning the justice they so well deserve.
We have a whole section of graphic novels at Royal River Books and would be happy to help with suggestions.